Panasonic Toughbook CF-31
---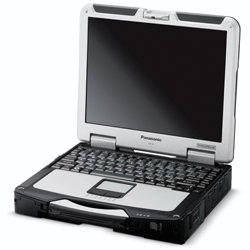 Panasonic Toughbook CF31: The Toughbook 31 laptop offers the highest performance in its class along with the world's most rugged design. With drop shock protection and a MIL-STD-810G and IP65 certification, it's the leader in the fully-rugged category. Its new Intel Core™ i5 vPro™ and i3 processors* along with available discrete graphics, pack a punch, to deliver desktop-class performance and improved video/3D graphics.

The Toughbook 31 offers a 13.1" brilliant 1100 nit touchscreen available with Panasonic CircuLumin™ technology, and up to 11 hours of battery life.
(Click on the image to enlarge)
---
Panasonic Toughbook 31
The Toughbook 31 features a 13.1" sunlight-viewable 1,100 nit touchscreen with Panasonic CircuLumin™ technology and an Intel® Core™ i3 or i5 vPro™ processor.* In addition to a 6-foot drop & IP65 certified1 design with a full magnesium alloy case that helps to ensure that the Toughbook 31 will stand up to the most rigorous environments. Integrated options include a web camera, long life batter pack, backlit keyboard (emissive or rubber), GPS receiver, Gobi™2000 mobile broadband and 128GB and 256GB solid state drives (SSD).


Frequently Asked Questions
What is MIL-STD-810G?
MIL-STD-810G certified for a range of extreme conditions including 72" drop, shocks, vibration, humidity, altitude, rain-, dust- and sand-resistance, temperature extremes and thermal shock. Each of the twenty MIL-STD-810G tests conducted have been certified by independent lab testing. MIL-STD-810G, which was created in October 2008, supersedes MIL-STD-810.


What is IP65?
IP65 is ingress protection. Rather than vaguely describing equipment as "waterproof" or "dustproof", the IP Code uniformly quantifies various levels of resistance to liquids, particulates and solid objects. The numbers following the letters "IP" represent the specific degree of protection provided by electrical enclosures. The first digit (6) indicates the ingress of dust at a level that will not have a harmful effect on the operation of the unit. The second digit (5) indicates that water sprayed from all directions will not compromise the computer's functioning. Higher numbers indicate a higher tolerance to dust and water.


What are the standard specifications for the Panasonic 31?
The Panasonic 31 comes with the Windows 7 Professional operating system, Intel Core i3 ior i5 Processor, 4GB of RAM, 320GB hard drive (shock mounted with flex-connect with quick release), 13.1" XGA sunlight-viewable LED touchscreen, integrated speaker, 802.11 a/b/g/n.


What are the deminsions and weight?
11.5"(L) x 11.9"(W) x 2.9"(H)
9 or 8.2 lbs. (varies by battery type)
What is the warranty for the computer
3-year limited warranty, parts and labor