Panasonic Toughbook CF-54
---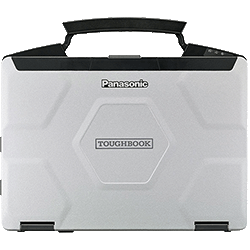 Panasonic Toughbook CF54: The new Toughbook® 54 laptop from Panasonic uses the latest advances to create a laptop 2 lbs. lighter and 0.5" thinner than the competition. It features a spill-resistant, full magnesium alloy design and backlit keyboard, and is available in four different models to suit every need. The Toughbook 54 laptop has a wide range of integrated options, such as dedicated GPS, 4G LTE mobile broadband with satellite GPS and insertable and contactless SmartCard readers. It is the only semi-rugged laptop that offers an optional second battery allowing hot-swap battery replacement without the need to shut down or hibernate. It is also the only laptop in its class to offer dual drives.

(Click on the image to enlarge)
---
Panasonic Toughbook 54
The Toughbook 53 features a 14" hig definitioin LED and an Intel® Core™ i3 or i5 vPro™ processor. In addition, designed with a magnesium alloy case which helps to ensure that the Toughbook 53 will stand up to the most rigorous environments. Integrated options include a web camera, backlit keyboard, Gobi™2000 mobile broadband and 128GB and 256GB solid state drives (SSD).

Durability Features:
MIL-STD-810G certified (3' drop, shock, vibration, dust, altitude, high/low temperature, temperature shock, humidity)
Spill-resistant keyboard
Optional hard drive heater
Magnesium alloy case with handle
Shock-mounted flex-connect hard drive with quick-release
Pre-installed replaceable screen film
Frequently Asked Questions
What is a Semi-Rugged computer?
A semi-rugged computer is engineered to wistand bumps and spills and feature enhanced durability and performance. They may not meet the rigorous testing done on the Fully-Rugged computers.

What are the standard specifications for the Panasonic 54?
The Panasonic 54 comes with Windows 10 Pro (available Windows 7 Professional downgrade option), Intel Core i5 ior i7 Processor, 4GB of RAM, 500GB hard drive Optional 256GB/512GB/1TB SSD, 1TB 7200rpm HDD, 14.0" HD, integrated speaker, 802.11 a/b/g/n.


What are the deminsions and weight?
10.7"(L) x 13.6"(W) x 1.2"(H)
4.2 lbs. (Lite Model), 4.6 lbs. (Performance and Gloved Multi Touch models)
What is the warranty for the computer
3-year limited warranty, parts and labor